How to Determine Country of Origin Product Marking Requirements While Manufacturing in Mexico?
Alma Denisse Martinez Salazar
CPI INSIDER SERIES
Is that Product Made in the US or Made in Mexico?
We are back again, speaking with our resident expert, Eduardo Acosta, Vice President at RL Jones Customshouse Brokers! As a part of CPI's Insider Series, we hope to demystify common topics brought up by US companies manufacturing in Mexico under maquiladoras and proprietary facilities in Mexico. We are frequently asked about the rules and regulations for country of origin marking on products.
Many manufacturers in Mexico operate under the IMMEX program, allowing for the temporary import of raw materials for further processing in Mexico before being returned to the US as a finished product. Often it is believed that this means they don't have to comply with the customs regulations for rules of origin by marking their products as "Made in the USA" or "Made in Mexico". In other cases, manufacturers who are looking to expand operations to Mexico, ask these questions as a part of their site selection process, as well as understanding labeling regulations in Mexico and the United States that might add to their manufacturing processes.
Co-Production International has helped establish over 200 manufacturers in Mexico and has decades experience in details like country of origin marking regulations. As a part of CPI's Shelter Companies in Mexico, manufacturers have access to a network of experts like RL Jones to minimize surprises and to keep your business moving and successful. Now, let's get down to the business of how to mark your products when you manufacture in Mexico!
---
1. How does a manufacturer determine if they can label their product, "Made in the USA" or "Made in Mexico"? Do they have to say it one way or the other or can they leave it off?
If a manufacturer does any kind of significant manufacturing in Mexico, they might not be able to say, "Made in the USA." Before NAFTA there was a lot of assembly where raw materials were sent into Mexico and assembled there. Even in those days, you still had to mention Mexico in the product marking with the most common example being, "Assembled in Mexico with US components." But you still couldn't say "Made in the USA" even if it was just assembled in Mexico.
After NAFTA it's almost all straightforward manufacturing. Now everything is happening in Mexico, you make the component there, you cut the fabric there, you mold the plastic components there and everything is duty free even if you import the resin from China, for example. So, in these most common cases, these products have to be labeled "Made in Mexico" or in lesser cases "Assembled in Mexico." Many components do come from the US, but the finished product is Made in Mexico.
NAFTA Updates: USMCA goest into effect: What are the Major Changes?
---
2. Are there "waivers" available to rules of origin marking?
Marking waivers are allowed when, one, there is going to be further processing or packaging in the US, and two, marking it "Made in Mexico" will be irrelevant later on. You have to write a letter to US Customs explaining the process after import and when US Customs signs that letter, the letter itself becomes the waiver.
A lot of clients import what to them might be deemed a finished product, but in reality, is a sub-assembly for somebody else. For example, let's say a manufacturer makes truck beds for a car manufacturer. That is a sub-assembly. You won't mark it "Made in Mexico," because that truck bed is going in a truck that is going to be made in the USA.
There are also products that lose their marketability when marked "Made in Mexico." Especially in the case of visual aesthetics, such as sleek new flat screen TVs or a mirror where you want a clean surface for viewing. There is also jewelry that is difficult to mark without damaging it. If it's a financial burden to mark the product or it loses value if it is marked, like in the case of jewelry, then you can also request a marking waiver. In these cases, you only have to mark the outer container or packaging that it is sold in.
---
3. What governmental body and which country overseas rules of origin product labeling?
US Customs and Border Protection (CBP) at the border randomly does compliance checks on many issues including marking. Once products are in the United States, the US Federal Trade Commission (FTC) regulates these goods, especially if any other process is done to the goods after they are imported into the US.
---
4. What are the consequences of incorrect labeling? Fines? Product confiscation?
When an article gets red-lighted at customs and deemed to be not properly marked, they'll release the truck, but send the broker a marking notice. This letter informs you that you have 30 days to mark it, destroy it or have it exported to Mexico. Product marking is an important and serious issue but is easy to handle with the right guidance and support.
See more: Demystifying Import And Export While Manufacturing In Mexico
---
5. What are good guidelines or best practices for product labeling and country of origin marking?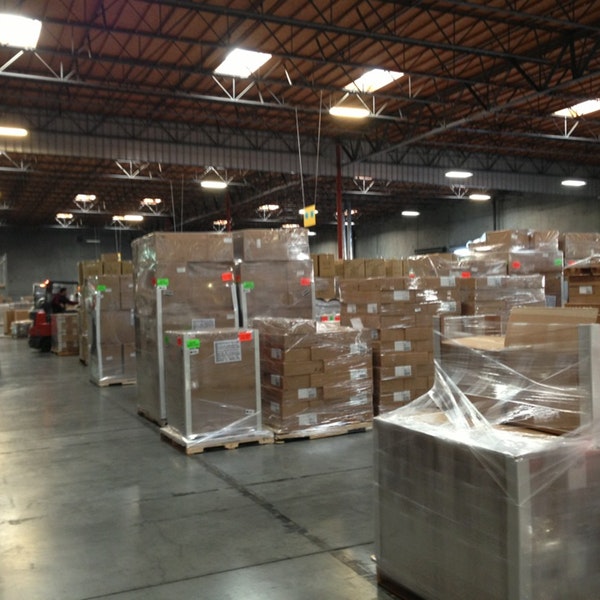 As importers, we at RL Jones talk to the client a lot about these regulations. We ask them: How they are going to package it? How are they going to ship it? We ask these questions so we understand exactly where and when they need to be marking their products. A lot of times products are shipped in bulk for packaging in the US. This would be another one of those examples where you'd get a marking waiver.
Let's use a basketball for example. The product cannot be marked, so we help import them by getting a marking waiver, because those basketballs are going to be packaged in the US and will say "Made in Mexico" on the outer package. If you have a US reference anywhere on the product, the country of origin must be on the same side of the product package, in a conspicuous place, legible, and in the same size lettering. The point of this regulation is to make sure consumers aren't being misled. The main reference for country of origin marking, though quite dense, is the US CFR 134 which is available online at www.ecfr.gov
---
About RL Jones Customshouse Brokers, Inc.
RL Jones was founded in 1938 by Earl D. Roberts in Calexico, California. Over the years, we expanded our coverage to include all major U.S Southwest borders and ports. Today, we employ more than a hundred and fifty individuals, system wide. Our trained and motivated team of professionals delivers integrated services to meet your Import/Export, warehousing, transportation and freight forwarding needs, with the highest degree of integrity. Our offices are staffed by 8 Licensed Brokers. www.rljones.com
---
CPI's Maquiladora Shelter Program
Complete. Cost Effective. Quick. Safe.
CPI's Turnkey Mexico Shelter Program is designed for manufacturers who want a cost effective and quick way to start manufacturing in Mexico. CPI's team of experts guide you through the complete set up of operations, minimize your risk and exposure, save you money, and get you going faster than trying to go at it alone. Your company uses our existing permits and certifications under our shelter company while you maintain full operational control of production. You manufacture – we handle the rest!