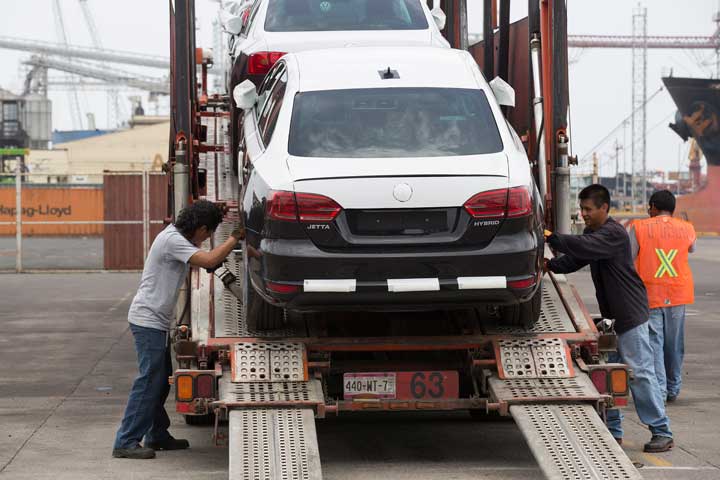 Mexico Surprassing Japan As No. 2 Auto Exporter to U.S.
Alma Denisse Martinez Salazar
Japan has ranked among the top two auto exporters to the U.S. since the 1970s, shipping Toyotas, Hondas and Nissans more than 5,000 miles across the Pacific.
The Asian nation is poised to be eclipsed this year by Mexico, which as recently as 1990 sent fewer than a quarter of a million vehicles across its northern border. Mexico's tally will reach 1.9 million in 2015, topping Canada as the biggest exporter of cars to the world's largest economy, consultant IHS Automotive estimated. U.S. light-vehicle sales rose 0.4 percent in January, figures released Feb. 3 are projected to show.
Mexican automotive industry exports to the U.S. more than quadrupled from 1993 to 2013 as output almost tripled, buoyed by lower tariffs under the North American Free Trade Agreement. Three plant openings in four months - by Nissan Motor Co., Honda Motor Co. and Mazda Motor Corp. -- will supply the final push for Mexico's leap past Japan, which as recently as 2008 shipped almost twice as many cars to U.S. consumers.
"It's certainly a low-cost place to produce and there's a lot of comfort with the caliber of the workforce in Mexico," Ron Harbour, a manufacturing analyst and partner at consultant Oliver Wyman, said in a telephone interview. "In the late 80s and early 90s, what was coming in from Japan was overwhelming compared with what we thought about from Mexico back then. Obviously, things have changed."
Economy Boost
Cranking out small cars such as the Honda Fit and Nissan Sentra, the new factories will boost Mexico's share of the $150 billion U.S. import market for passenger vehicles and light trucks. Made-in-Mexico autos sold in the U.S. will reach 1.69 million this year, topping the 1.51 million Japan-built vehicles, estimated Guido Vildozo, an IHS Automotive analyst based in Lexington, Massachusetts.
By 2015, U.S. sales of autos from Mexico may climb to 1.9 million, topping Canada's 1.87 million, Vildozo said by phone.
"Passing Japan as a U.S. supplier has been in the works for quite some time, particularly since the Mexican plant announcements a few years back," Vildozo said. "It looks like there's a possibility Mexico may pass Canada next year."
U.S. auto sales in January probably rose to less than 1.05 million, the average estimate of eight analysts surveyed by Bloomberg News. The annualized selling pace, adjusted for seasonal trends, may have accelerated to 15.7 million cars and light trucks, the average of 14 estimates, up from 15.2 million a year earlier.
Weather Effect
Analysts' average estimate for the industry selling rate dropped after LMC Automotive reduced its projection to 15.5 million, from 15.9 million, citing bad weather that may have kept shoppers from dealerships.
Deliveries may slip 2.5 percent for General Motors Co., 2.3 percent for Ford Motor Co. and 2.7 percent for Toyota Motor Corp., according to the average estimates of analysts surveyed by Bloomberg. Sales probably rose 10 percent for Nissan, 4.8 percent for Honda and 5.4 percent for Chrysler Group LLC, according to analysts' average estimates.
"We will see some effect due to the weather in the Midwest and the East," Joe Hinrichs, Ford's president of the Americas, said yesterday in an interview. He declined to give a forecast for the company's monthly sales.
For Mexico, the significance of growing exports goes beyond bragging rights over manufacturing prowess. Autos, trucks and parts accounted for 19 percent of Mexican exports during 2013's first 10 months, up from 17 percent a year earlier, the Mexican Automobile Industry Association reported. The industry has grown so large that it generates more foreign exchange than oil or money sent home by Mexicans living abroad.
Mazda, Toyota
The trio of new plants alone will boost Mexico's annual auto capacity by about 600,000 vehicles during the next several years. By 2018, Mexican production is projected to surpass 4 million from last year's 2.93 million, according to LMC Automotive. The Troy, Michigan-based firm estimates that U.S. output was 10.9 million in 2013, including 3.6 million from Japanese automakers.
More Japanese-owned plants in Mexico will further reduce the need to ship cars across the Pacific. A Mazda 3 sedan this month was the first car to roll off the assembly line of a plant in Salamanca for the Hiroshima, Japan-based automaker, which is spending $770 million. Mazda eventually will build cars there for Toyota, too.
Honda's $800 million factory in Celaya will begin mass production of the Fit next month. Nissan, No. 1 in Mexico by output and domestic sales, opened a $2 billion plant in November in Aguascalientes. It's also choosing between the U.S. and Mexico as a place to build more Infiniti luxury models.
$9.6 billion
The facilities are part of automakers' commitments to $9.6 billion in Mexican investments since the start of 2011, according to the Center for Automotive Research in Ann Arbor, Michigan.
Non-Japanese automakers are also expanding exports from Mexico, led by gains last year of 35 percent at Dearborn, Michigan-based Ford and 13 percent for GM. Fiat SpA Chief Executive Officer Sergio Marchionne traveled to Mexico to open a $1.1 billion plant making the Ram unit's ProMaster utility van.
Companies are taking advantage of factory quality that's comparable to the U.S., said David Sargent, global automotive vice president at consultant J.D. Power & Associates. Mexico boasts labor costs at 20 percent of U.S. levels and trade deals covering more than 40 countries, according to Luis Lozano, lead automotive partner at PricewaterhouseCoopers LLP in Mexico City.
More Trade
Nafta helped set many of those trade accords in motion as Mexico sought expanded commercial links abroad. The country's exports soared more than sevenfold, to $380 billion in 2013, from 1993, the last year before Nafta took effect.
U.S. exports to Mexico are up as well. Last year's total through November, the latest available figures, was $208 billion, or about five times as much as for all of 1993, according to the U.S. Census Bureau data. Exports to Mexico roughly doubled as a percentage of the U.S. economy in that 20-year period, based on data compiled by Bloomberg.
Mexico accounted for 18 percent of North American auto output in 2013, compared with 11 percent in 2000 and 6.5 percent in 1990, said Dennis DesRosiers, president of DesRosiers Automotive Consultants Inc. in Richmond Hill, Ontario. He said that share may climb as high as 25 percent in 2020.
Bigger Piece
"Mexico should be able to get a bigger piece of the pie, a much bigger piece," DesRosiers said by phone. "It's almost as sure a thing as you can get that Mexico is going to export more vehicles to the U.S. market than Japan will this year. The only thing that could throw a wrench into that is the yen."
Auto factories take years to build, so understanding the Mexico boom in light of currency moves requires some perspective.
While the yen has weakened since 2012, it's still stronger than it was most of the time from 1996 through 2007. Even as Japanese Prime Minister Shinzo Abe's monetary easing weighed on the yen in 2013, the currency gained 1.8 percent against the dollar in the decade ended in December. Over the same period, Canada's dollar rose 22 percent against the dollar, while Mexico's peso slid 14 percent -- furthering Mexico's advantage.
That shift helped make Mexico attractive to Japanese automakers and others, as Canadian operations became more expensive. Mexico is already the No. 1 foreign supplier of car parts to the U.S.
Dollar Value
Canada's lead over Mexico remains largest in the dollar value of auto exports. During 2013's first 11 months, the latest figures available, Canada's $40 billion topped Japan's $34.4 billion and Mexico's $28.8 billion, U.S. Commerce Department data show.
Factories in Canada build more big models such as the Cadillac XTS sedan, Lexus RX 350 sport-utility vehicle and Chrysler Town & Country minivan. While smaller cars still predominate in Mexico, higher-value vehicles are on the way.
Volkswagen AG's Audi unit will open Mexico's first luxury-car plant in 2016 to make Q5 SUVs, adding to the export flow. In 2013, the value of Mexico's auto exports to the U.S. rose 14 percent through November, compared with declines of 4.3 percent for Canada and 0.6 percent for Japan.
"They haven't caught Canada in dollar terms yet," said Sean McAlinden, chief economist at the Center for Automotive Research. "If they get past 2 million sent to the United States, they'll easily plow the Canadians under."
Source: Bloomberg News