What Does Mexico Manufacture? Products You Didn't Realize Were Made in Mexico
Alma Denisse Martinez Salazar

Hits: 1051
This is a globalized and connected world. Gone are the days of manufacturing products in just one country or another, especially between the United States and Mexico.
Over time our manufacturing work has become complimentary and collaborative, with parts and components crossing the border several times before sitting on the shelf at your local retailer or being adorned with balloons and fresh paint, parked for sale at your nearest car lot.
Mexico is the U.S.'s largest trading partner, a relationship that has been strengthened by 26 years of NAFTA, and now the new USMCA (NAFTA vs. USMCA). Products that are made in Mexico come from contract manufacturing in Mexico, as well as OEM operations dedicated to aerospace, medical device, home appliances, automotive, and electronics manufacturing in Mexico. Mexico exports finished products of which 40% actually contain components and parts sourced from the United States. Each region in Mexico has clusters specific to manufacturing industries and are supported by a stable and mature supply chain (Learn more about the best places to manufacture in Mexico). Manufacturing companies in Mexico owned by foreign entities are called maquiladoras (What is a maquiladora?), and the list of Mexico manufacturing companies is so long that you'll wonder why you aren't manufacturing here! Take a look around your house or office and you'll notice how much Mexico manufacturing has influenced your life.
Let's take a closer look the complex, yet very successful co-production manufacturing relationship we have with our southern neighbor.
---
Life Saving Medical Devices:
Catheters, Pacemakers, Defibrillators and Syringes

Medical Device Manufacturing Companies in Mexico: Greatbatch Medical, DJO Global, Medtronic, CareFusion, Brentwood, Kimberly Clark, Boston Scientific, Johnson & Johnson, GE, Tyco, Siemens and Cardinal Healthcare, Becton Dickinson...
The United States imports about 30% of its medical devices with Mexico as the leading supplier ahead of China. It is even more apparent in places like Tijuana, just south of San Diego, California, where Mexico's largest concentration of medical device manufacturers make life saving devices for Americans every single day. With San Diego's booming biotech and medical industries, having sister facilities in Tijuana just makes sense. Cross border training, collaboration and innovation are short drive away from where our long standing cultural ties and history is one of shared pride and a shared vision for a healthy future.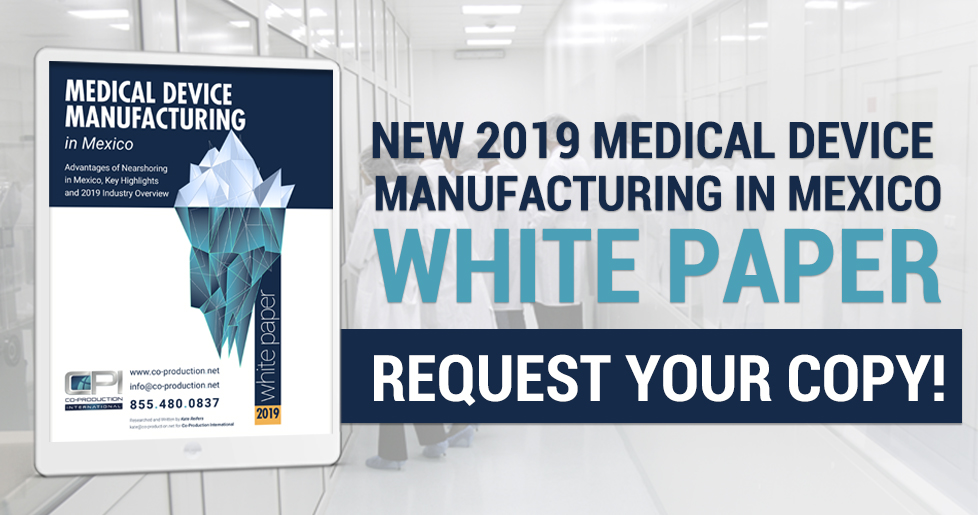 From single use supplies like syringes to implantable devices like pacemakers, medical device manufacturing facilities also adhere to international hygiene and cleanliness standards. In Tijuana, where 70% of the medical device companies are from the United States, this means you'll find sterile clean rooms from class 100 to 100,000, FDA Class I, II and III, FED209 and ISO 14644 certified facilities, just to name a few. Medical device manufacturers and medical supply companies can produce the same quality of product, freeing up capital to innovate the next life saving device you'll depend on.
Some other medical devices made by manufacturers in Tijuana and Mexico are:
Contract Manufacturing
Medical supply
Dentures
Electronic thermometers
Hemodialysis components
Infusion pumps
IV administration sets
Lenses
Nebulizers
Orthopedic braces
Oximeters
Pacemakers
Single use medical supplies
Stents
Surgical kits and equipment
Urinary catheters
Wheelchairs
X-ray film marking systems
---
Safety and Comfort at 30,000 Feet
Aerospace manufacturing and design: Airplane turbines, landing systems, aerospace components, and in-flight entertainment

Major aerospace manufactuing companies: Rockwell Collins, Honeywell, ICON Aircraft, Boeing, Bombardier, Chromalloy, Burrana, EATON Aerospace
Our modern world isn't grounded, but constantly taking off. From commercial aircraft zipping U.S. across continents, recreational amphibious aircraft thrilling even non-pilots about the future of flying, to rockets that take satellites and humans to space; aerospace manufacturing is about going up. And Mexico has been on the ground making it happen for decades.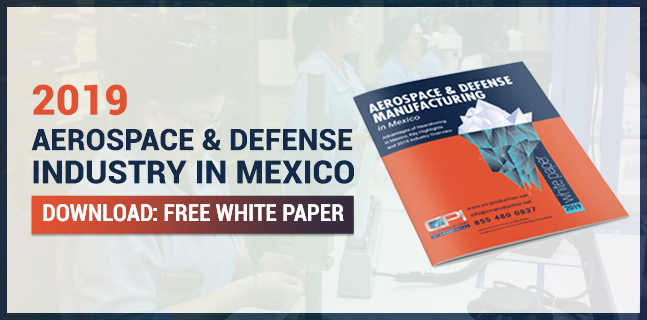 Mexico has a 50+ year history in aerospace manufacturing with companies like Rockwell Collins who have been here for 48 years and Gulfstream for 28 years, just to name a couple. Everything from composite airframe structures and high-tech landing systems to turbines and in-flight entertainment systems are made in the state. Two-thirds of Baja California's aerospace exports go to the United States. But it doesn't stop at OEM activities. Major aircraft manufacturers have MRO facilities here, including FAA Certified Repair facilities. So, next time you board a plane, brush your hand over the in-seat flat screen TV or lift your tray table for final descent, know that Mexico was a part of getting you there comfortably and safely.
Some international aerospace products made in Mexico:
Thermal processes
Aerospace components
Aircraft components
Aircraft composite structures
Assembly or manufacture of harnesses and wires
Airframe parts
Components for landing systems
Machining and metal turbine parts
Precision equipment
Audio and video systems, electronic components
Maintenance and repair of aircraft interiors
Maintenance and repair of turbine
---
Channel Surfing: Televisions, Remote Controls, and the Electronic Circuitry of our Lives
Electronics manufacturers in Tijuana and Mexico: Panasonic, Plantronics, Sharp Samsung, LG, Parpro, Sony, Foxconn, GE, Whirlpool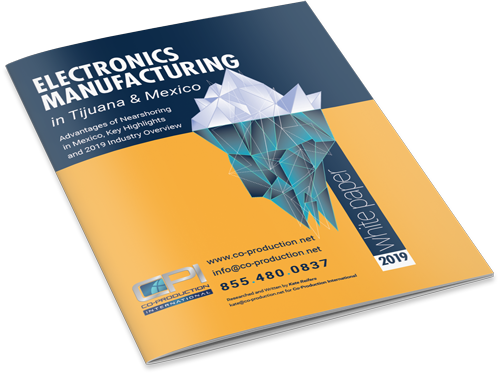 Nineteen million. That's the number you need to remember. Nineteen million high-tech televisions are made in Mexico very year specifically in the Baja California, Mexico. When 8 of 10 of the world's largest electronics manufacturers call Mexico home, there's a lot to get excited about. Our modern world is driven by electronics – just take stock around you
Your cell phone, your laptop, your television, the remote control, your alarm clock, everything that is plugged into that crowded power strip. Even the power strip! The little electronic circuit boards humming away in all these devices look like cities, powering your world, your home and your work. All possible thanks to Mexico and its talented and dedicated nearly half a million-strong Mexico Labor force.
Aerospace electronics
Automotive electronics
Flat screen televisions
Microphones, speakers, headphones
Computers
Cell Phones
Audio/visual electronics
Household appliances
Power supplies
Lighting
Subcontract assembly
---
Zero to 60mph in a Tijuana Minute: Auto parts, exhaust systems, cars and light trucks

Automotive manufacturing companies: Ford, Toyota, Nissan, Kenworth, Volkswagen, Magnaflow, Goodrich
Mexico is the largest supplier of auto parts to the United States and is home to over 1,000 Tier I automotive and auto parts manufacturers. Everything from truck beds, wiring harnesses, roll up doors, and exhaust systems to 42 brands making over 500 models of cars for export, you'd be hard pressed to get in a car in the United States that wasn't assembled or that contained parts from Mexico. Auto manufacturers shipped 2.42 million vehicles to the U.S. from Mexico in 2018 with this transfer of parts and components happening a million times over every month due to nearshore proximity.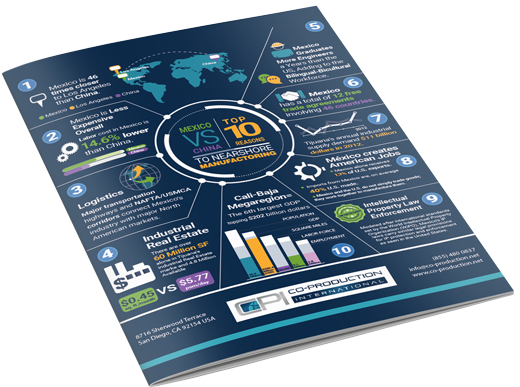 The automotive manufacturing industry in Mexico is a prime example of the collaborative work being done between the U.S. and Mexico. Part of a wiring harness may start at U.S. manufacturing plants before it's shipped to sister facilities in Mexico to finish terminations and connections, then returned again to be installed in the vehicle assembly plant. Or the other way around with U.S.-made parts being exported to Mexican automotive assembly facilities, returning to the U.S. as a complete passenger car ready for sale. Next time you see a well-waxed new car zipping around in a TV commercial, strip it down to its parts and remember how much stronger North America is when we work, together.
Passenger vehicle production
Wiring harnesses
Electronics manufacturing
Car audio equipment
Navigation equipment
Machined parts
Sheet metal
Brake systems
Light duty motor vehicles
Seating and interior products
Gasoline & engine parts
Electrical components
---
Have you been thinking of manufacturing in Mexico?
Let us run the numbers for you at no-charge!
Co-Production International has helped hundreds of manufacturing companies to get started in Mexico through the Maquiladora Shelter Program. Shelter Companie in Mexico like CPI allow manufacturers to get up and running with minimal risk and in a shorter amount of time versus going at it alone. The first step to knowing if Mexico is right for you is to let us run our labor cost analysis.
Other Insights: